Céline Bellut-Ja est BI est BI est BI, version III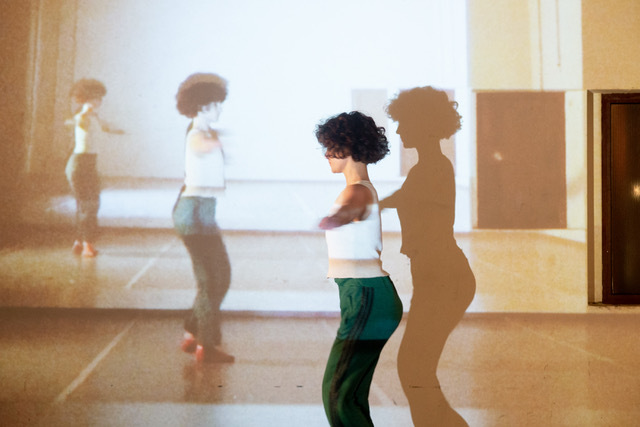 Diese Soloarbeit begann als eine Untersuchung über Erwartungen und Vorhersehbarkeit in den darstellenden Künsten und entwickelte sich mit der 3. Version zu einem Werk, das sich mit der Perfektionierung des Körpers und der Selbstoptimierung beschäftigt. Durch die Arbeit mit Wendemustern versuche ich mich gegen ein inhärentes Gefühl von Zeit zu wenden, indem ich meine körperlichen Grenzen herausfordere. Die dritte Version der Arbeit konzentriert sich auf die notwendigen körperliche Anpassungen, die durch ein Gefühl des Schwindels hervorgerufen werden. Ich werde dreimal die selbe, anspruchsvolle Choreographie wiederholen, mit genügend Zeit dazwischen, um das Schwindelgefühl loszuwerden, ohne jedoch eine komplette körperliche Erholung zu erreichen. Eine Videoinstallation wird zur Zeugin der notwendigen Modifikationen aufgrund von zunehmender Erschöpfung innerhalb der andauernden Choreographie.
Bilder: Dirk Rose Choreographie und
Aufführung: Céline Bellut
Videodesign: Peter Haas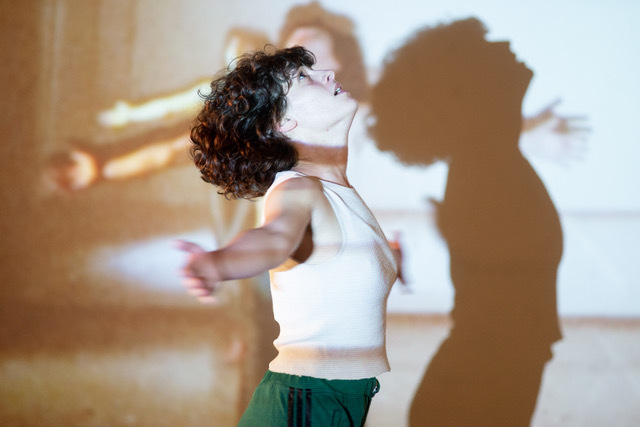 " What is predictable, must be both predictable and unpredictable; and what is unpredictable, must be both unpredictable and predictable."
– Kevin Volgans
This solo work started as a research on expectations and predictability in performing art and developed itself with the 3rd versions into a work dealing with body perfectibility and self improvement. By working with turning patterns I tried to go against my organic feeling of timing by challenging my physical limits. The third version of the work focuses on the necessary physical adjustments provoked by dizziness. I will be repeating three time a same challenging choreography, with in between enough time to get rid of the momentary dizziness but not to entirely recover physically. The accumulative video installation will witness the necessary modification inside the choreography from one time to the other due to physical exhaustion.
The pictures have the credit : Dirk Rose
Choreography and performance: Céline Bellut
Video design: Peter Haas.